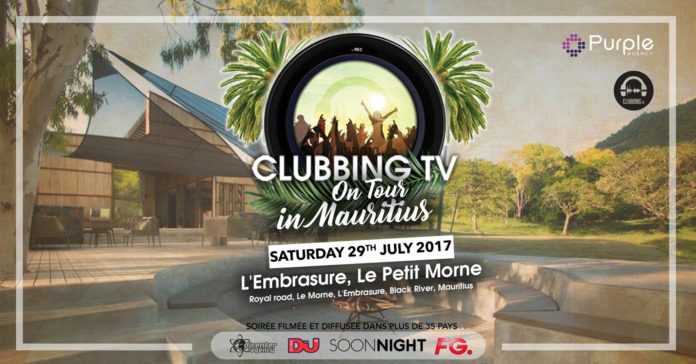 29 juillet 2017 21 h 00 min - 6 h 00 min Indian/Mauritius
L'Embrasure
Le Petit Morne Royal road, Le Morne, L'Embrasure, Black River, Mauritius
TCKETS PRICE RS 800 PRE SALE AT DOOR 1000
POINT OF SALES
MANGO SHOP: TRIANON SHOP PARK-LA CROISETTE GRAND BAIE
CELIO SHOP BAGATELLE & JUMBO PHOENIX
JENNYFER SHOP BAGATELLE & JUMBO PHOENIX
BIG WILLY'S TAMARIN
HOTLINE 5804 6439
CLUBBING TV TOUR IN MAURITIUS!!
Our objectives this year is to organize some luxurious events to our clients satisfaction.
⊙⊙⊙THE CONCEPT ⊙⊙⊙
We are here to raise the level of Events in Mauritius and to bring a new touch in the entertainment industry. Our concept is different as the first segment of the event will be held outdoors and consists of a covered dance floor.Having clubbing tv tour in Mauritius does not consist of bringing djs but to create new trend in terms of services and venues. .
We are implementing a beer garden, where people can chill and also a lady bar, specially for ladies only and very chic high class lounge inside 2 international Guest and 6 best local talents..
★★★Music★★★
Techno- Deep House
The the after movie will be diffuse in 27 countries around the world on the Clubbing TV channel.
THE VENUE :L'EMBRASURE PETIT MORNE
We have chosen L'embrasure as its a nice and cosy place. Its première event venue situated on Royal Road Le morne with a very cosy Atmosphere.
https://www.facebook.com/lembrasure/
✺✺✺✺✺✺✺✺✺✺✺✺✺✺✺✺✺✺✺✺✺✺✺✺✺✺✺✺✺✺✺
.ııllıl.ı. THE HEADLINERS.ııllıl.ı.
★★★ DARIN EPSILON ★★★
Record Label:Perspectives Digital, Sudbeat, Global Underground, Renaissance, Hope Recordings, microCastle, Selador
Awards
Nominated in Beatport Awards – Best Progressive House Artist (2016)One of the winners of John Digweed & Beatport's DJ Competition (2011)Winner of Breakthru Emerging Artists Tour (B.E.A.T.) for Chicago, sponsored by Toyota Scion & Beatport (2007)
Youtube Chanel : www.youtube.com/darinepsilon
★★★ CLIO ★★★
Record Label Drumcode – Truesoul – Snatch – Metroline LTD
Following the success of his releases, Clio sees his tracks licensed for « Cocoon » heroes (compilation mixed by Joris Voorn),but also on « Balance » mix series (mixed by Nic Fanciulli) , »SonneMond Stern » compilation (mixed by Mathias Kaden), »Subliminal Compilation (mixed by Erick Morillo).Between 2013 and 2015, Clio has quickly risen through the ranks and has most recently featured on « Drumcode » and « Truesoul » ,both run by Adam Beyer.Gigs include cities such as Berlin (Tresor, Hopetosse),London (Ministry of Sound),New York (Space),Ibiza (Sankeys),Paris,Montpellier,Switzerland and more.
✺✺✺✺✺✺✺✺✺✺✺✺✺✺✺✺✺✺✺✺✺✺✺✺✺✺✺✺✺✺✺
★★★SUPPORTED BY THE BEST LOCAL TALENTS ★★★
MIRSOLIZ
RAIN
REVIVAL
TESSA
✺✺✺✺✺✺✺✺✺✺✺✺✺✺✺✺✺✺✺✺✺✺✺✺✺✺✺✺✺
TICKET PRICE RS 800 PRE SALE AT DOOR RS 1000
The Management of PURPLE AGENCY reserve The Right of Admission.