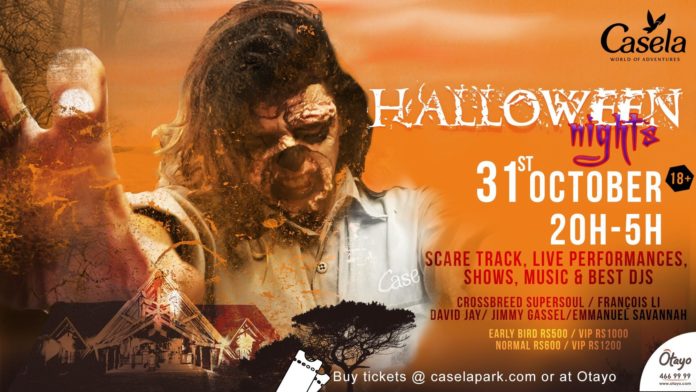 31 octobre 2017 20 h 00 min - 5 h 00 min Indian/Mauritius
Casela
Royal Road, Cascavelle, 90203, Cascavelle, Black River, Mauritius
You will attend one of the greatest events ever organized in Mauritius! Get ready to be entertained and horrified during a night which promises to be fun and bold! Party monsters, this is the opportunity to get your costumes ready and dance until sunrise! As from 20h30, you will get to walk thru our haunted scare track, eerie animatronics and graveyards to come across devils and super monsters! Exorcise yourself as from 21h30 with the beats from Crossbreed's live concert and spin with our terrific DJs, Francois Li, David Jay, Jimmy Gassel & Emmanuel Savannah all night long! We are feeling creeptastic already! Grrrrrrr
🎃 Line Up 🎃
21h – Crossbreed
22h30 – Francois Li
1h00 – David Jay
2h30 – Jimmy Gassel
4h00 – Emmanuel Savannah
🎃 Ticketing 🎃
Early Bird Specials from 1st September to 29th September 2017 on sale on www.caselapark.com and at Otayo
Normal: Rs 500
VIP: Rs 1000
Learn More:
Doors open at 20h30
Food and drink corners all night long
Dress code: Halloween Costumes
Tickets on sale on www.caselapark.com and at Otayo offices.
Halloween Party Terms & Conditions:
* By attending this event, you are agree to be filmed and photographed and that such images may be used by Casela and its related companies for their marketing purposes. This means that such images may also be viewed by the public at large on the web and social media forums.
* The management reserves the right of admission to the park.
* Strict security control measures will be carried out at the entrance. * This event is reserved for those aged 18 years and above, thus proof of age can be required at the entrance and/or at the bar.
* All persons attending the event shall ensure good demeanour and sobriety. It shall be forbidden to consume any illegal narcotics at the venue.
* It is strictly forbidden to bring any drink and/or food for consumption inside the venue. Those wishing to enter the Park must present their bags for security controls and searches.
* Once inside the venue, ticket holders going out will not be allowed back in.
* Ticket holders voluntarily assume all risks associated with the event, whether occurring before, during and/or after event, including but not limited to postponement or cancellation of the event for security reasons, adverse weather and shall disclaim Casela, Bluesteel and Otayo and their respective officers, employees and agents from any liability in respect thereof.
* Tickets bought at Casela, Bluesteel or at Otayo cannot be replaced if lost, stolen or destroyed.
* Tickets obtained from unauthorized sources are void and reproduction of this event ticket is forbidden
* All persons parking their vehicles at the venue premises do so at their own risk and peril.
* Casela, Bluesteel and Otayo shall not be liable whatsoever for any loss, theft of and/or damage to any property and/or personal belongings brought onto the premises.
* Any personal belongings abandoned and/or left on the premises after the event, shall be disposed of by Casela as it deems fit, without it being liable for any indemnity.
* Casela shall – without being liable for any indemnity/reimbursement – be entitled to require any person attending the event to leave the venue premises, where Casela considers it necessary to do so in the interests of security and/or safety and/or where that person has breached any one or more of these terms and conditions.