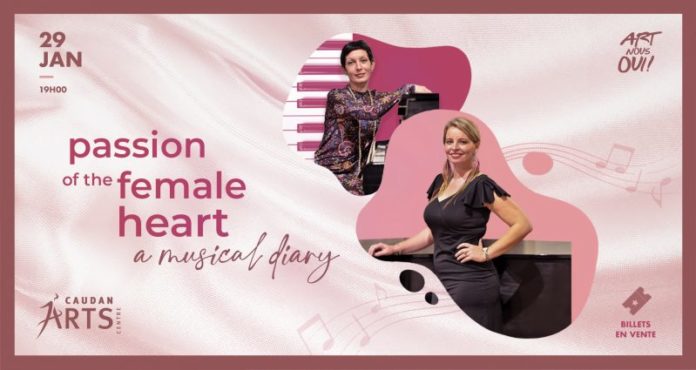 29 janvier 2022 19 h 00 min Indian/Mauritius
« A woman tells her story of love and heartbreak through art songs, airs, and connecting texts. »
German Art Songs and Airs with connecting texts
January 29
Event language: English/ German (with translation)
Length of event: 1h
Price range: Rs500 and Rs800
A woman tells her story of love and heartbreak through art songs, airs, and connecting texts.
The Program
"Im wunderschönen Monat Mai" (Robert Schumann)
"Seit ich ihn gesehen" (Robert Schumann)
"Er, der Herrlichste von allen" (Robert Schumann)
"Ich kann es nicht fassen, nicht glauben" (Robert Schumann)
"Als Luise die Briefe ihres ungetreuen Liebhabers verbrannte" (W.A. Mozart)
"Gretchen am Spinnrade" (Franz Schubert)
"Ich grolle nicht" (Robert Schumann)
"Im wunderschönen Monat Mai" – Reprise (Robert Schumann)
"Großmächtige Prinzessin" (Richard Strauss)
"Dein ist mein ganzes Herz" (Franz Lehar)
Katrin Caine is a coloratura soprano, who studied Classical Singing and Musical Education at the Leopold Mozart Conservatory in Augsburg, Germany.
Since she moved to Mauritius, she was seen on stage in a number of productions, such as «Mamma Mia», «The Sound of Music» and «La Veuve Joyeuse».
She is the author of «The Dodo Who Wanted to Fly» and the conductor of Island Voices as well as Rainbow Voices Children's Choir.
Viktoriya Multykh studied piano at the Prokofiev State Conservatory in Donetsk, Ukraine.
She performed for many years as a pianist in the United Arabic Emirates, in Syria, and in Jordan.
In Mauritius, she worked as part-time lecturer at the University of Mauritius and has accompanied many Mauritian singers and instrumentalists for concerts and exams.