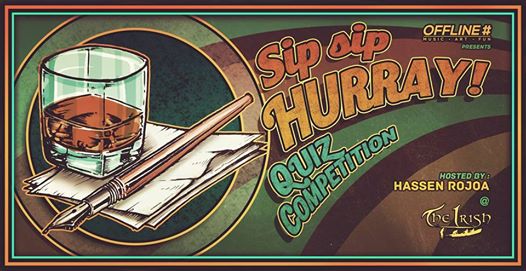 31 mai 2017 19 h 30 min - 1 h 00 min Indian/Mauritius
The Irish Pub
Irish trianon maurice
You and your friends are the wise souls?
Geeks who Drink?
Then, come show us of what mettle you are made of!
On the 31st May, The Irish and Offline# are launching the « Sip Sip Hurray Quiz Competition ».
How does it work?
1. You grab your mates, brainstorm and find the coolest team name you can think of and register on: https://docs.google.com/forms/d/1UNI6mSa-LzQCmzZHuLZ1oWSF4Z7PxqxT-4MkpIMs52o. We can accomodate a max of 40 teams, split into 4 sessions, starting on the 31st and repeating every other Wednesday.
2. it's a Quiz, a theme a week. Hassen asks the questions, you answer, if you are right, you win points. If you are wrong, you don't (!).
3. Winning Team's Tab is on the House. (Valid from Question 1 to Question 25 and up to Rs5, 000).
4. Registration Fee: Rs1000 per team, entirely redeemable on F&B the night of the event.
Are you registered yet? https://docs.google.com/forms/d/1UNI6mSa-LzQCmzZHuLZ1oWSF4Z7PxqxT-4MkpIMs52o