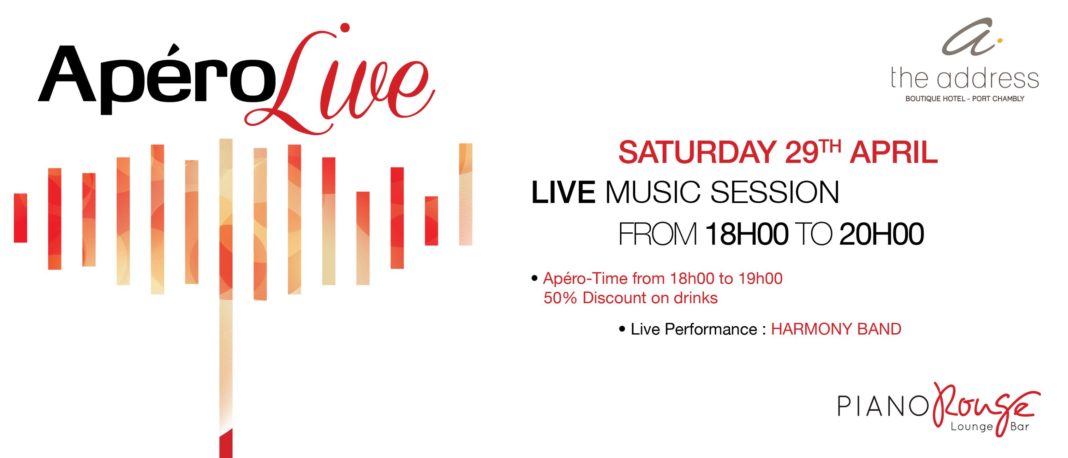 29 avril 2017 18 h 00 min - 21 h 00 min Indian/Mauritius
The Address Boutique
Hotel Port Chambly, Port Louis, Mauritius
This Saturday, come and enjoy a live performance by the Harmony Band from 18h00 to 20h00 !
Music, cocktails and good company, the perfect combination for the perfect evening! Every Saturday, join us at The Piano Rouge for an amazing night with friends and family.
Live music will brighten your evening and our special deal on drinks will unwind the ambience!
Capture your most beautiful moments and share them with hashtag #AperoLive !
▬▬▬▬▬▬▬▬▬▬▬▬▬▬▬▬▬▬▬▬▬▬▬▬▬▬▬▬
➨ #AproLive 18h – 19h
50% discount on drinks
Enjoy a variety of delicious cocktails throughout the night.
➨#Entertainment
Live music session with Harmony band while the sun sets over the horizon.
➨ #TapasTime
Delicious selection of tapas to keep you fueled throughout the evening.
➨ #DressCode: Casual Smart
#AperoLive #PianoRouge #AddressBoutiqueHotel #PortChambly
▬▬▬▬▬▬▬▬▬▬▬▬▬▬▬▬▬▬▬▬▬▬▬▬▬▬▬▬
✺The Management reserves the right of Admission✺
▬▬▬▬▬▬▬▬▬▬▬▬▬▬▬▬▬▬▬▬▬▬▬▬▬▬▬▬
By entering the event premises, you consent to be possibly photographed, video recorded and its/their release, publication, exhibition, or reproduction to be used for advertising, inclusion on websites, social media, or any other purpose by our affiliates and representatives. Images, photos and/or videos may be used to promote similar events in the future.